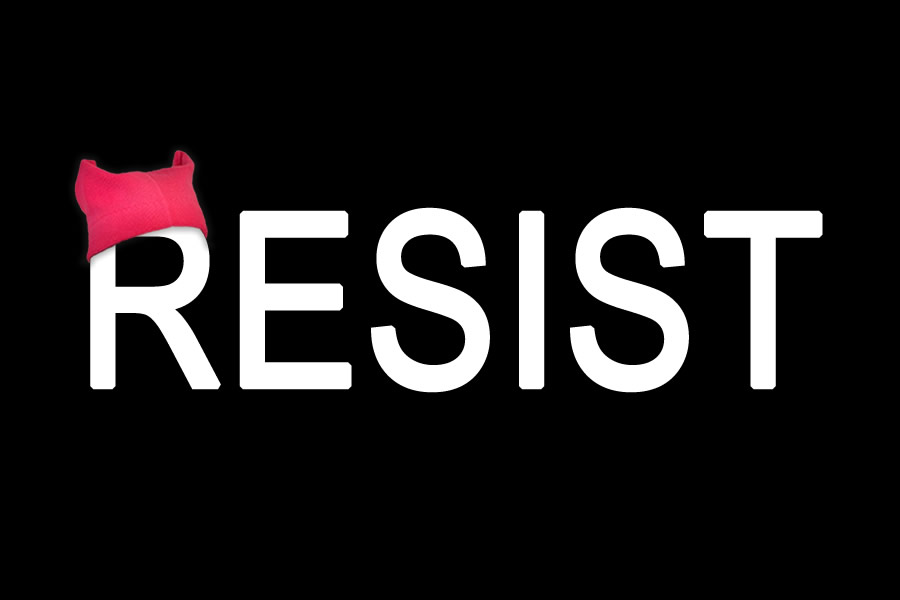 My historian friend, Maria, reminded me yesterday that as Hitler was coming to power, people retreated into their private spaces and communities. Feeling threatened, they withdrew, assuming that the worst couldn't/wouldn't happen in their civilized society.
We can't make that same mistake.
Uncivilized things can and do and will happen if we let them.
And now, with a government that is willing to make up "alternate facts" to justify and sell their misguided ideas, we — even those us, like me, who tend not to be political — must stand up and be seen and heard.
7 Things I'm Doing to RESIST
Here a list of things I'm planning to do.
1. Wear a pussyhat every day.
It keeps the idea of resistance alive in a visible and effective way — at least while it's cold enough to wear a hat.
2. Make and distribute more pussyhats.
I'm making more pussyhats for those people who ask me where they can get one.
3. Create RESIST pin-on buttons.
I'm designing and ordering buttons that say RESIST. I'll put them on the pussyhats and shirts and jackets. I'll carry a pocketful of them to give out to those who ask about them.
4. Take one meaningful action every day.
I'm joining my daughter in her commitment to carry out an-action-a-day and every morning I look for her email in which she tells me what she's doing. Lots of phone calls to senate and congressional offices in the works, but other things too.
5. Organize locally.
I'm helping to organize an action group here in the South Bronx. It will be based on the remarkable and practical material provided by IndivisibleGuide.com
6. Give more to those in need.
On a very grass roots level, I'm giving away more to the people I see in the streets and on the subway who are obviously in need.
7. Seek new and better ways to RESIST.
Over the next several months, I will look for more ways in which I can resist that will do the most good.
I hope you will join me in standing up for truth and integrity and kindness and the rule of law. They matter.
Try

This
Determine Your RESISTANCE Plan
It's not enough to wring your hands or yell at your TV. This is the time for sustained action. Some people will take big actions. Others, like me, will do small things, but lots of them. What will you do to RESIST the demise of our democracy at the hands of people who care only for power?
Make a list today. Share it with your friends and family. Seeing action, sparks action. Stand up. Be willing to be seen.
Share your ideas in the comments below. Or, head on over to Facebook and share your ideas there.