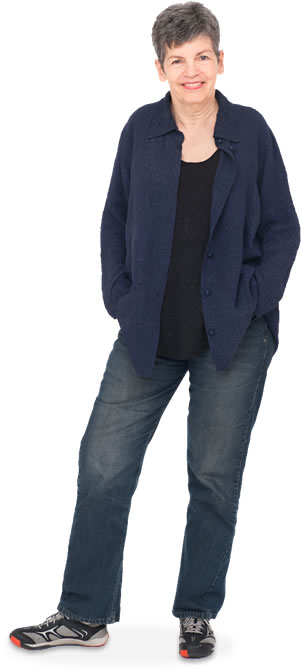 I'm a student of human nature – all of the messy, complicated, and fascinating aspects of how and who we are.
As a fundraising consultant for more than thirty years, a graduate of the Fellows Program in Change Management at Johns Hopkins, and a student and instructor at the Gestalt International Study Center, I've spent my professional life learning what goes on "under the surface" of the human mind and heart.
Interested in learning more?
Check out "Try This!" my blog full of mind play games that will give you a taste of what I offer and get you started on our journey together.
What else do I offer?
Speaking and Training
I've given hundreds of workshops, trainings and lectures all over the country to professional associations, conferences and boards. And I've learned to work with groups large and small in clear, thought-provoking and engaging ways.
Writing
I've published a number of books on fundraising that are all selling well.
My writing doesn't end with fundraising! I've coauthored a new book of board training exercises with the remarkable non-profit trainer, Andy Robinson. Together we have also developed a series of videos to help people become comfortable and effective trainers.
I am a frequent contributor to the Guidestar Newsletter and many fundraising blogs.
Click here to learn more about my books »
More About Me
During my years as a consultant I conducted more than my fair share of successful capital campaigns with organizations large and small, well-known and obscure; among them are health centers and hospitals, community centers, private schools, settlement houses, museums and libraries.
You don't want to see the entire list; it's huge!
I am the president of Capital Campaign Masters, a website designed to help make your next capital campaign a capitol success. I co-founded Asking Matters, the on-line resource that provides a free assessment of your Asking Style.
Education
Yes, I have one, and a good one at that. In addition to my studies at Johns Hopkins the Gestalt International Study Center, I hold degrees in Philosophy from University of Pennsylvania and Brown.
My Family
I've been married to the same guy for more than four decades. We have two grown daughters and four grandchildren. We live in New York City where we enjoy going to the theatre, listening to music, walking in the city, and eating good food.
Our daughter Rya Kihlstedt is an actress and lives in Los Angeles. Our daughter Carla Kihlstedt is a musician and lives on Cape Cod. And yes, people do sometimes ask if I'm their mother!