I couldn't shake it from my mind.  And I can't let it go.
I'm in mourning for the ideals I hold dear — the ideals of my 70+ year lifetime.
I've gotten lots of thoughts and suggestions from friends and acquaintances.  And I've gotten help.   Help thinking through and designing an image. Help in figuring out the message.  Help in finding a url that'll make sense.
The First Prototypes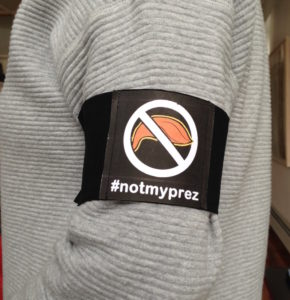 My friend created a preliminary logo in record time.  I've ordered iron-on decals which will arrive next week.
My next door neighbor — a clothing designer — helped figure out how to make them.
A trip to Mood, the same fabric store they go to in Project Runway, yielded two yards of black fabric and seven yards of black elastic.
Two hours with my neighbor experimenting with sewing techniques and sizes led to two prototypes — one smaller and one larger.  And, then, the first 12 armbands with simple paper images sewn on. The paper won't last, but it feels real and wearable while we wait for the iron on decals.
Not My Prez → Not My Values
I've purchased the domain www.notmyvalues.us.
The idea has changed since its inception.  The next versions will have that website on the armband, along with the image. That will take people to a website that presents letters to live by and their alternative values.
Amazing how Trump and his rhetoric make a mockery out of these "Letters to Live By."
C = Compassion or Cruelty
D = Dignity or Divisiveness
E = Empathy or Enmity
F = Forgiveness or Fear-Mongering
G = Generosity or Greed
H = Humility or Hubris
I = Integrity or Injustice
J = Justice or Jealousy
K = Kindness or (not sure what)
L = Love or Loathing
Not quite right yet, but you get the idea. Messy and exciting. Two wrong directions and one direction that feels right.
What's Next?
This week, Tyko and I will start wearing our prototype armbands and as soon as the iron on decals arrive, I'll put them on and give armbands to ten friends.
Will we be scorned? Will we be harassed?
Will people ask about them? Will they want to know where to get one?
Will we have the courage to wear them? Even here in New York City?
Whatever the response and wherever this goes, I'm happy to be creating something that expresses the way I feel. I hope you do that, too.
---
Share your thoughts about the way the armband idea is shaping up in the comments below, or head on over to Facebook and share your thoughts there.