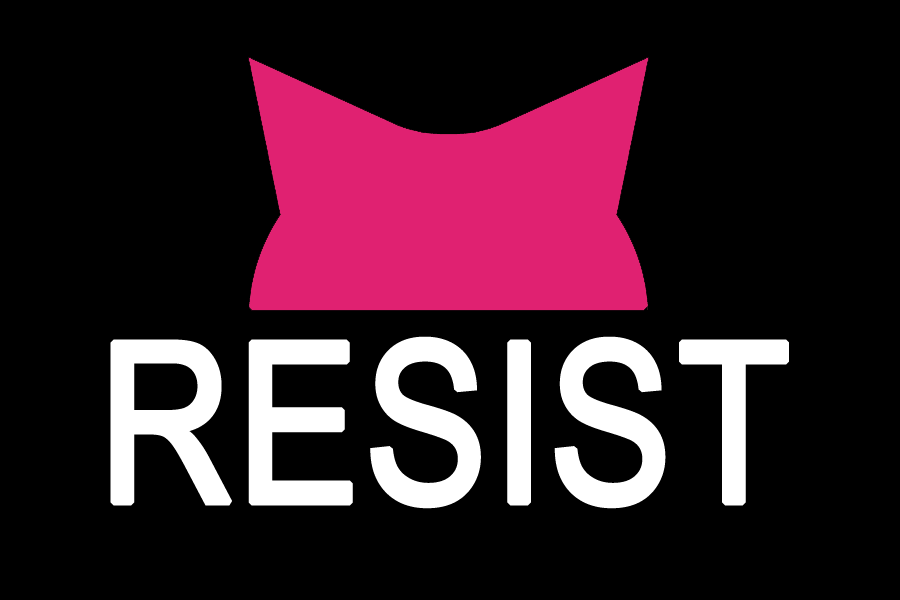 Since the election, I've been working on creating something people can wear to indicate their disapproval of the new administration.
When dealing with bullies, it's tempting to pull back and hide rather than standing up for what you believe in. But the more we hide, the more power you give a bully.
I admire people who have the courage to confront and act up in strong and public ways. But for me, simply wearing a public sign of my disapproval feels like what I can do.
Armbands, Pussyhats and Now…
I began my quest for a visible symbol of resistance with black anti-Trump armbands. With the help of friends, I made two dozen of them. Tyko and I tried them out. We wore them and gave them to friends.
But the armbands didn't work. Not only did we have technical problems with size and closure and materials, but no one noticed or commented on them. NO ONE!
Then, I started to knit pussyhats. I wear mine every day.
Pussyhats have become a symbol of resistance.  They've been featured on the cover of TIME and the New Yorker.
Many people comment on my pussyhat. And some ask me where they can get one. So, I've been knitting more. I just finished my 7th hat and I have several people waiting for theirs.
But obviously I can't knit hats for everyone. And not everyone wants to wear a pink hat, especially as spring comes. So I am onto making buttons.
…RESIST Buttons!
With help once again from my wonderful friends, I've created 500 RESIST buttons. Tyko and I have been giving them away. Every day we go out with pockets full of them.
When we see people on the street or in the subway looking at our buttons or when people comment on them, we ask them if they would like one. Their faces light up when we pull a button out of our pockets for them to wear.
By the time we come home, our pockets are empty.
Our first box of 500 buttons is almost gone, and I'm getting ready to order more.  You can see the design at the top of this post. The buttons are round and about 2″ in diameter.
Try

This
Join the Resistance: Wear a FREE Button
If you too are displeased with Trump and his administration, wear a button prominently and proudly to indicate your resistance. Simply contact me with your name and address. I'll send you 10 buttons for free. I ask only that you give them away to the people you know who would be willing to wear them. They do no good sitting in a drawer.
If you'd like a bigger bunch, let me know that too. I'll be happy to order more and have you share in the cost. This is a wonderful way to RESIST this authoritarian regime.
Share your ideas in the comments below. Or, find the courage to power your way over to Facebook and share your ideas there.