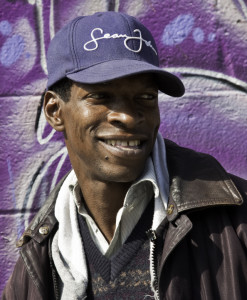 Meet Clemetin, my most unlikely friend.
Nearly five years ago, I met Clemetin at St Mary's Park in the South Bronx where I exercise most mornings. I had no idea that he had spent most of his nearly 45 years in prison.
Gradually, while we walked around the track at the park together morning after morning, I learned his story. But by the time I had learned enough about him to warn me away, we had become friends.
Clemetin's story is both sad and uplifting.
His life has been full of trouble. But he's charming, gregarious, and resilient. He's got a winning smile and a bounce to his stride.
How a Life of Crime Got it's Start
Clemetin grew up in a large family that sometimes ate the racoons his father trapped on city streets.
He was often beaten by his mother who would tie him to the radiator to drive home her point.
By the time he was nine, he was looking for approval from the area drug lords. They'd slide down the window of their big black town car and ask him to go get them some steaks.
Into the local grocery store he'd go, meandering up to the meat counter. He'd stuff several juicy red steaks into the waistband of his underpants. Then he'd head down the spice aisle to pluck bottles of A-1 Sauce from the shelf and drop them into the sleeves of his jacket.
Out of the store he'd run, looking slightly fatter than when he went in. And back to the big black town car parked outside, where the men with their gold rings, big smiles and fancy clothes were waiting for him.
They'd take his haul, pat him on his head, give him some money to buy candy, and drive off. For Clemetin, that pat of approval meant everything.
One day, when he got home after a meat-stealing adventure, his mother noticed streaks of blood on his underwear from a leaky package of steak. She figured he'd been up no good and gave him a beating.
After that, when Clemetin stole steaks, he also stole Fruit of the Loom underpants.
And so began his life of crime.
Over Half a Lifetime in Jail
Not surprisingly, by the time Clemetin was a teenager, his thievery had escalated way beyond steaks and A-1 Sauce.  And when he was 17, he was arrested and charged with a crime that sent him to prison for the next 27 years.
Now, at nearly 50, he's been out of prison for almost 5 years. He has an apartment and a girlfriend. He works odd jobs when he can. And most days, he'd say he has everything he needs to be happy.
The friendship Clemetin and I have developed has given each of us a rare opportunity to glimpse a different way of living. It's made us both less quick to judge, more inquisitive and more understanding of people whose paths are very unlike our own.
Try

This
Become Curious about Someone Else's Life
Today, when you encounter someone whose situation in life is quite different from your own, take a moment to wonder how they grew up and what led them to where they are. You can learn so much and perhaps even make a new friend in the process.
It's more constructive to be curious than it is to stand in judgment.
What lessons have you learned from people you've encountered whose lives are very different from your own? Share your tale in the comments.