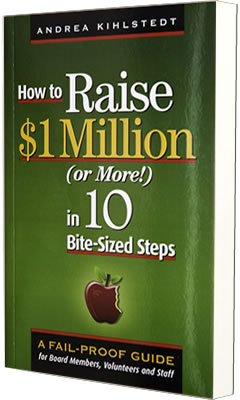 If you've shied away from a major gifts campaign, feeling unprepared or unsure what to do, this book will give you a double dose of confidence. True to its title, the book does make it seem surprisingly easy to raise a $1 million or more just by following the steps.
The 10 steps in How to Raise 1 Million (or More) in Ten Bite-Sized Steps will and won't surprise you. If you have experience, you already know the importance of a campaign's infrastructure: the need to refine your case, identify the right chair, and adhere to the proven sequence of soliciting. But what WILL surprise you are the fresh ways this book helps you line up your ducks.
You'll learn how to make sure you have the right chairman.
You'll be surprised by a sure indicator that you've got the right case for support.
And you'll learn an inviting way of getting your insiders to give.
This entertaining book is perfect to ease your board members' fears and give them the confidence they need to help raise more money.
$24.95 Buy Now *Discounts on purchases of ten or more copies.
What people are saying…
I loved this book and recommend it to anyone who has to raise money. Andrea Kihlstedt understands what makes people give and shares her insights from years of consulting. She gives plenty of wonderful, practical real-world examples of what works and why. Her step-by-step approach is clear and concise and immediately empowers even the inexperienced fundraiser. Read this book — you will know exactly what to do and how to do it. And you will love her insights, humor and can-do spirit." —Jane Keiffer
I have had the privilege of working under Andrea Kihlstedt's expert guidance. She is is a brilliant strategist who knows the right levers to pull and the right buttons to push to help an organization develop "a culture of generosity" (her phrase). All of her enthusiasm, big-heartedness, optimism, and adventurousness are captured in this accessible book. Much of my consulting practice consists of teaching non profit organizations what I have learned from Andrea, and I am delighted to have her wisdom encapsulated in this gem." —Paul Jolly, Jump Start Growth
$24.95 Buy Now *Discounts on purchases of ten or more copies.